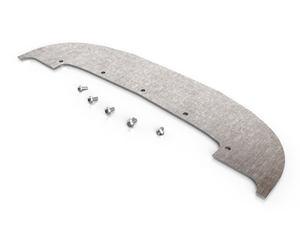 Stainless steel front splitter designed specifically for the Arrma Infraction 3s.
Upgraded component for improved performance and durability.
Adds a sleek and aggressive look to your RC car.
Enhances the aerodynamics of the vehicle.
Constructed from high-quality stainless steel for long-lasting durability.
Helps to lower the center of gravity, improving stability and handling.
Easy to install with included mounting hardware.
Precision-engineered for a perfect fit on the Arrma Infraction 3s.
Provides added protection to the front end of your RC car.
Ideal for enthusiasts looking to upgrade their vehicle's appearance and performance.
Better than Carbon fiber when lower weight is needed, combine this with our carbon steel side skirts and you will recover the balance between the upper and lower center of gravity.