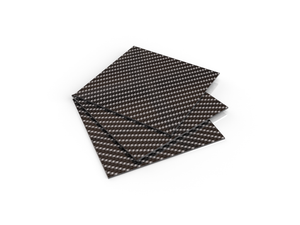 Introducing our Carbon Fiber Sheet/Plate, perfect for your DIY RC projects. With a compact size of 15mm x 15mm (6 in x 6 in), this high-quality carbon fiber sheet is designed to enhance the performance and aesthetics of your RC creations. Whether you're building a new chassis, reinforcing existing structures, or adding a touch of elegance to your project, our carbon fiber sheet is the ideal choice.
Key Features:
Premium Quality: Crafted from durable and lightweight carbon fiber material for optimal strength and performance.
Easy to Cut: The sheet can be easily cut into desired shapes and sizes using standard tools, allowing for precise customization.
Versatile Application: Suitable for a wide range of DIY RC projects, including chassis, frames, wings, and more.
Enhanced Performance: The carbon fiber material offers excellent rigidity, reducing flex and improving overall stability.
Sleek and Professional Look: The carbon fiber weave pattern adds a touch of sophistication and modernity to your RC creations.
With our Carbon Fiber Sheet/Plate, you can take your DIY RC projects to the next level. Its easy cut feature allows for hassle-free customization, ensuring a perfect fit for your specific needs. Upgrade your RC vehicles with the strength, durability, and sleek aesthetics of carbon fiber. Order now and unlock new possibilities for your RC projects
What's in the package?
1 sheet of carbon fiber, 150mm x 150mm of the selected thickness.