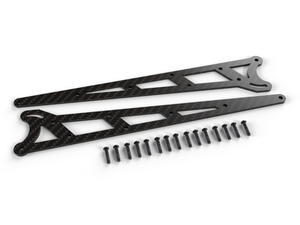 The Carbon Fiber Wheelie Bar Upgrade for Traxxas Drag Slash is a premium enhancement designed to take your RC racing experience to the next level. This upgrade is compatible with all revisions of the Traxxas Drag Slash and comes with upgraded hardware for increased durability and performance.
Crafted from high-quality carbon fiber, this wheelie bar upgrade offers exceptional strength and lightness, enhancing the overall agility and speed of your vehicle. The carbon fiber construction ensures optimal weight distribution and stability, allowing you to maintain control even at high speeds.
With its sleek and stylish design, the carbon fiber wheelie bar not only provides functional benefits but also adds a touch of visual appeal to your Traxxas Drag Slash. It's a perfect combination of form and function, elevating both the aesthetics and performance of your RC car.
Installation is a breeze, thanks to the included upgraded hardware. The improved components ensure a secure and precise fit, providing peace of mind during intense races and jumps. The upgraded hardware enhances the overall durability of the wheelie bar, making it capable of withstanding the rigors of competitive racing and off-road adventures.
Whether you're a professional racer or an RC enthusiast looking to enhance your Traxxas Drag Slash, the Carbon Fiber Wheelie Bar Upgrade is a must-have accessory. It offers improved stability, increased speed, and a stylish appearance, taking your RC experience to new heights. Upgrade your Traxxas Drag Slash today and unleash its full potential on the track!