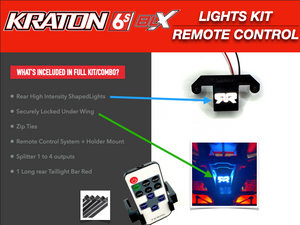 Lights were specially designed for all Arrma Kraton 6s V4 / Notorious
by
Polo Creations Rc
Plug and Play, easy installation, step by step video guides.

No need to drill holes, please refer to installation video in the videos section.


High intensity lights

Low power consumption

Remotely controlled, turn on/off, blink, fade, flash, strobe, 10 intensity modes (dimmer, brighter) and more modes!

No modifications needed, just place the lights in place and that's it!

No Technical knlowledge needed, anyone can do it!

Do you need help?, don't hesitate to contact us, we always respond!

Waterproof, Dustproof, Sandproof and crash proof!
What's in the package?